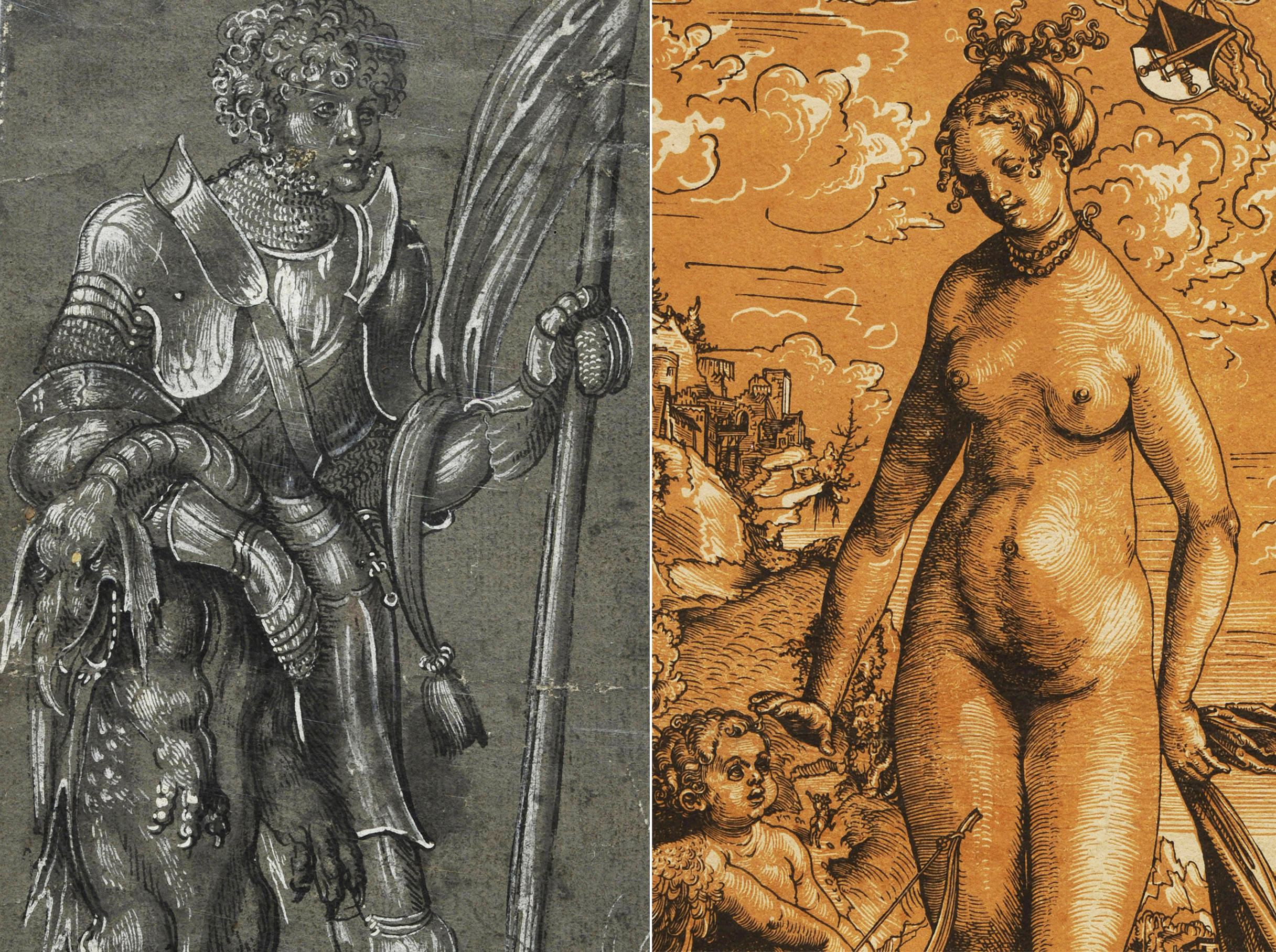 Left: Lucas Cranach the Elder, St George, about 1505, pen and brush, grey ink with highlights in white on paper with grey wash (detail), Szépmuvészeti Múzeum Budapest; Right: Lucas Cranach the Elder, Venus and Cupid, 1509, coloured print on paper (detail), Staatliche Museen zu Berlin - Preußischer Kulturbesitz, Kupferstichkabinett
For the Cranach Digital Archive a new project phase dedicated to the study of Cranach's prints and drawings began in March 2023. The Deutsche Forschungsgemeinschaft and the Ernst von Siemens Kunststiftung are providing the financial support for the interdisciplinary research and scientific examination of the prints and drawings by Lucas Cranach the Elder, his sons and the workshop. Participants include the Kupferstichkabinett, Staatliche Museen zu Berlin, the Deutsche Dokumentationszentrum für Kunstgeschichte - Bildarchiv Foto Marburg, the Kupferstich-Kabinett, Staatlichen Kunstsammlungen Dresden, as well as other leading collections.
Over the last 10 years the paintings and archival documents have been systematically catalogued in a joint international project. Unfortunately, no equivalent comprehensive and scholarly sustainable catalogue of Cranach's widely dispersed oeuvre of prints and drawings exists. We feel it is important to redress the balance and wish to develop a systematic online digital catalogue. In cooperation with scholars specialising in art historical research, reformation history and computer science we will examine some 300 drawings and 600 prints by Lucas Cranach the Elder, his sons and the workshop, documenting the complex relationship between the printing matrix, impressions from different states and the numerous editions. The results will be made accessible to both professionals and the general public on the international research platform cda, the Graphikportal and the on online portals of our partner institutions.
The present content of cda will provide a unique opportunity to examine the prints and drawings within a wider spectrum of primary sources and illustrate the diversity of the workshop's central role as mediator during a time of political and confessional upheaval throughout Europe. It is with this comprehensive approach that we hope to capture a broader audience and foster an interactive interest in the German Renaissance, which would contribute to sustaining this important chapter of the world's cultural heritage.

Read press release (in German)

Project Team
Dr. Stephanie Buck, Kupferstich-Kabinett, Staatliche Kunstsammlungen Dresden
Dr. Christian Bracht, Deutsches Dokumentationszentrum für Kunstgeschichte – Bildarchiv Foto Marburg, Philipps-Universität Marburg
Prof. Dr. Gunnar Heydenreich, Cologne University of Applied Sciences/ Kunstpalast, Düsseldorf
Prof. Dr. Dagmar Korbacher, Staatliche Museen zu Berlin, Kupferstichkabinett

Georg Josef Dietz, Staatliche Museen zu Berlin, Kupferstichkabinett
Daniel Görres, Cologne University of Applied Sciences / Kunstpalast Düsseldorf
Ariane Hennell, d:kult, Kulturamt, Landeshauptstadt Düsseldorf
Prof. Dr. David Hotchkiss Price, Vanderbilt University, Nashville/Tennessee
Jana Herrschaft, Cologne University of Applied Sciences / Kunstpalast Düsseldorf
Thomas Klinke, Wallraf-Richartz-Museum & Fondation Corboud, Cologne / Cologne University of Applied Sciences
Dr. Gudrun Knaus, Deutsches Dokumentationszentrum für Kunstgeschichte – Bildarchiv Foto Marburg, Philipps-Universität Marburg
Armin Kunz, New York
Dr. Mailena Mallach, Kupferstich-Kabinett, Staatliche Kunstsammlungen Dresden
Dr. Christien Melzer, Staatliche Museen zu Berlin, Kupferstichkabinett
Prof. Christian Noss, Cologne University of Applied Sciences
Dr. Doris Oltrogge, Cologne University of Applied Sciences
Jorge H. F. Pereira, Cologne University of Applied Sciences
Helen Smith-Contini, Cologne University of Applied Sciences / Kunstpalast Düsseldorf
Frank von Hagel, Institut für Museumsforschung der Staatlichen Museen zu Berlin
Prof. Dr. habil. Susanne Wegmann, Cologne University of Applied Sciences
Project Partner
Albertina, Vienna
Anhaltische Gemäldegalerie, Dessau
Friedrich-Alexander-University Erlangen-Nuremberg
Germanisches Nationalmuseum, Nuremberg
Klassik Stiftung Weimar, Graphic Arts Collection
Kunstsammlungen Coburg, Kupferstichkabinett
Lutherhaus, Wittenberg (Stiftung Luthergedenkstätten)
Martin-Luther-University, Halle-Wittenberg
Reformationsgeschichtliche Forschungsbibliothek Wittenberg
Stiftung Schloss Friedenstein, Gotha
Staatliches Museum, Schwerin